May 2018
| Mon | Tue | Wed | Thu | Fri | Sat | Sun |
| --- | --- | --- | --- | --- | --- | --- |
| | 1 | 2 | 3 | 4 | 5 | 6 |
| 7 | 8 | 9 | 10 | 11 | 12 | 13 |
| 14 | 15 | 16 | 17 | 18 | 19 | 20 |
| 21 | 22 | 23 | 24 | 25 | 26 | 27 |
| 28 | 29 | 30 | 31 | | | |
Calendar


Earlier this year, Gulbis complained that (compared to olden days) tennis players are (getting) boring.
More or less, most of us agreed with him:
http://ourtennisforum.forumotion.co.uk/t343-is-tennis-getting-boring
Now, Pat Cash is using exactly the same word to, this time describe tennis game:
"There's an argument that this generation of men's tennis is boring and I think it's a valid one. It's not boring to see two great players like Nadal and Djokovic compete in a final. What is getting mundane is watching the same tactic in every single match of every single Grand Slam for the last five or six years. Nowadays they all settle down and say 'OK, this is going to be two hours of baseline rallies.' The guy who outlasts the other one wins. It's taken a lot of the skill out of tennis.They are not better all-round players than the likes of Becker or Sapras. Boris and Pete were baseline players, they were attacking players and they could do it against baseliners like Wilander or Agassi. Now that was entertainment. You never knew which way it was going to go. Nadal and Djokovic are exceptional athletes, there's no doubt about it, but to say they are better athletes than past greats like Bjorn Borg and Edberg is just nonsense. This is some crap drummed up by somebody and I think it's an insult to past players. Modern players don't dive around the net, they don't deliver backhand smashes, they don't have to twist and turn like past generations. Could modern players do that? We don't know. What we do know is that they are incredibly good at retrieving shots from the back of the court."
I am glad that Pat reads OTF and has decided to speak out on our behalf 
Naturally, the question arises: 
What needs to be done in order to revert the trend and make tennis more interesting?
My answer: BAN DOUBLE BACKHAND 
http://ourtennisforum.forumotion.co.uk/t157-should-double-handed-bakchand-be-banned
While looking for a nice photo of a single backhand I came across this wonderful article:
"The single-handed backhand is like Gothic style: elegantly produced and powerful, a thing of aesthetic charm. Roger Federer, fading a little, can still produce backhands like that; Justine Henin could, and now doesn't.
Instead, most of the global tennis caravan has been coached relentlessly from kiddy-training camp into heavily-overspun double-handed Spanish clubbing from the baseline, using racquets made from some byproduct of the space program that give no time to do anything much, let alone to put a volley away."
http://www.theage.com.au/federal-politics/society-and-culture/lament-for-a-single-backhander-the-art-in-tennis-has-been-lost-20130130-2dl0b.html
It's nice to know that there are people missing beautiful tennis and that SBH movement is gathering momentum 
https://www.youtube.com/watch?v=WJY8TNEAcK4
Last edited by NITB on Fri Feb 17, 2017 7:30 pm; edited 2 times in total
My answer: BAN DOUBLE BACKHAND
Absolutely ridiculous and preposterous suggestion.



Posts

: 4620


Join date

: 2013-05-03



Last weekend, I spent quite a few hours watching live Davis Cup tennis from close up.

I saw several different players ranging from different eras:
Daniel Nestor (41) & particularly Zimonjic (36) both doubles players, played the old school tennis: wonderful single backhand, fantastic volleying, great reflexes at the net.
I really enjoyed watching all 4 hours of their 5 set match on Saturday.
So much variety, so much intensity, so many oooohs and aaaahs as the ball was coming back and forth across the net, players often standing a metre or two away from each other.

Then there were singles matches and all the problems of today's tennis which many consider boring showed immediately.
In the very first match between Novak and Pospisil it was pure baseline tennis.
Both players wasting 5-6 shots in every rally, trying to outmanouver each other by taking initiative.
Unlike in the doubles match where points were won at the net, the initiative here was laboriously achieved by putting away a safe winner 10-15 shots into a rally. Both achieving excellent length with great consistency.
The idea behind it was not to move forward and make life easy, but to extend the rallies to unnecessary number of excess shots as the balls were easy to retrieve however well struck.
There was not a lot to separate the two, Novak's forehand having better control and variety made the crucial difference in the long run.
Despite the elegance of ball-striking, tennis itself was boring indeed.

It was interesting to observe that same Pospisil in the doubles match, though: there, he was able to show off his volleying and was very good at it.
Probably encouraged by that experience, he took it to his match against Tipsarevic on Sunday.
He moved forward a lot and was a far more attractive player to watch, although Tips played pretty well and did not rally more than he needed, he was  gutsier than Novak against Pospisil.

Still, tennis had the same feel to it and a predictable, monotonous pattern.

Finally, Raonic: the "future" of tennis.
A huge, heavy, tall player with a fast serve...
What does he do: he rallies. And rallies. And rallies some more.
Unlike the elegant and quite athletic Pospisil, Raonic's shots are just repetitive, drilled, dull cross-court FHs , the only variation is the pace he injects in them when he feels safe to pull the trigger once in a blue moon.
Both his matches were the worst to watch.

So, Cash's view on modern tennis is spot on. I hope others join in the drum beat and something gets done about it.

Implementing the 25 sec between the points was a good start, but obviously not enough.
Knowing that sponsors are holding ATP at ransom regarding exposing doping at the very top of the game, we cannot expect any big names to be "harmed" by getting caught.
Same goes for racquet industry: they will continue to manufacture these toy like light models with strings that will help spin more and more, taking away the risk and reducing the role of tennis talent among the pros.
The "easy" racquets are all fine for amateurs and recreational players, but in the hands of pros they turn tennis into mockery.
A very boring one at that indeed.
Julia Santamaria wrote:

My answer: BAN DOUBLE BACKHAND

Absolutely ridiculous and preposterous suggestion.
OK, here's a challenge for you (and everyone else who thinks banning DBH is not a good idea):
next time you watch a match featuring DBHs, every time they hit a BH, try to imagine what a SBH-er would do, how he would play.
I guarantee you, there would be very little of pushing and rallying for the sake of it as there is so,so much of in modern tennis atm.
I was just watching the highlights of Simon's win over Tsonga when the idea came to me. Try it, it's quite interesting, and you'll quickly realise why DBH, coupled with modern strings and weak anti-doping policies have  killed real tennis.



Posts

: 4620


Join date

: 2013-05-03



Having seen all current SBH-ers (bar Almagro) live, I can say that Fed's is obviously the best, Stan's limited in variety (hence almost exclusive baseline game) but makes up with the power, Gasquet's is second best - he has all the variety but lacks Fed's grace.
Dimi, Thiem, GG Lopez and Haas are good but they all take it late.
Unfortunately I never got the chance to see Ju Ju Henin, but she was impressive - same if not better than Gasquet.
Anyway...I was looking to post some phitos of her BH but realised that Fed still looks by faaaaar the most elegant and gorgeous.
Here's one in blue: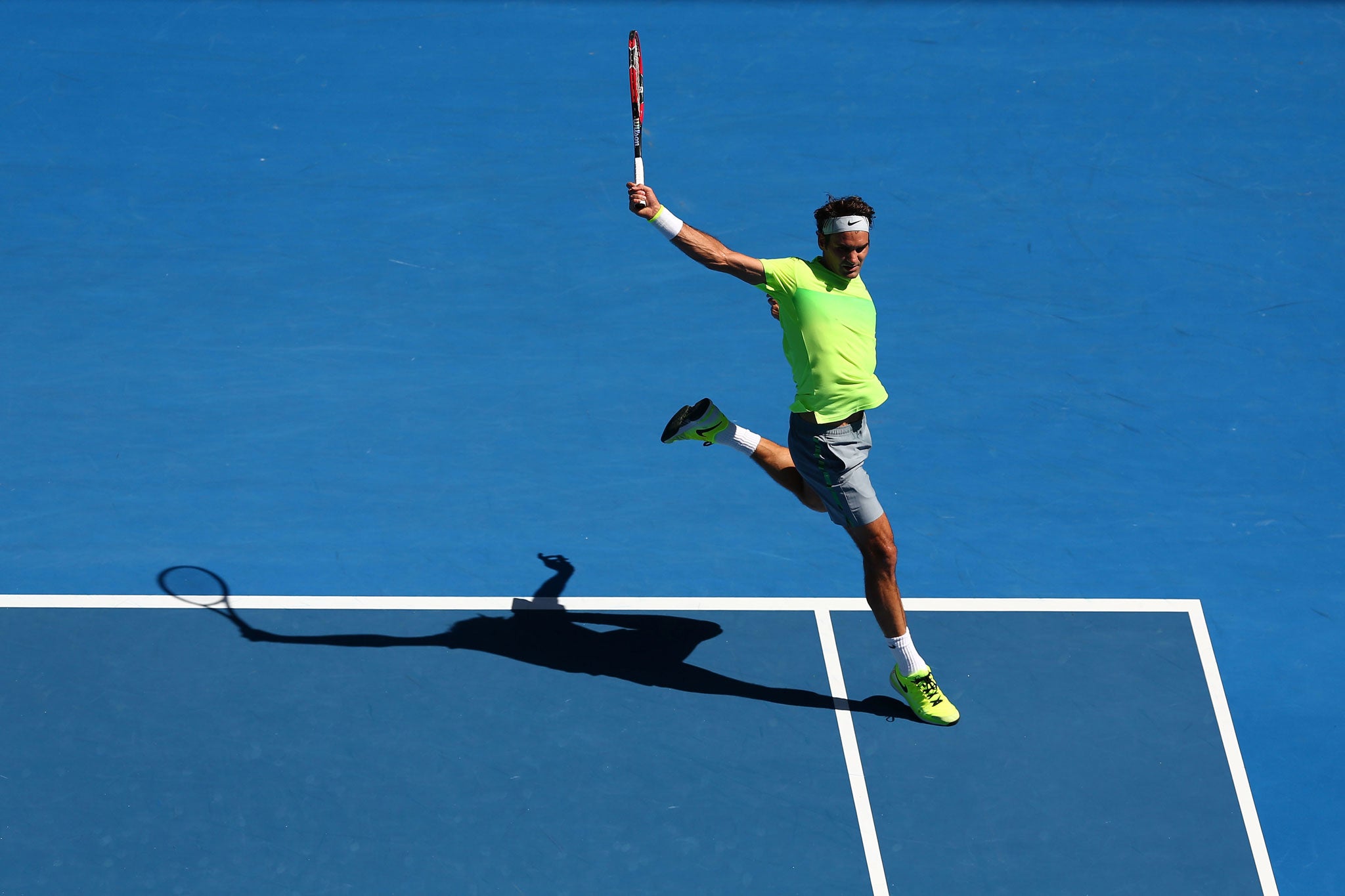 This article ain't bad either... http://www.si.com/tennis/2016/02/16/death-of-one-handed-backhand-tennis
Young, upcoming journo there



Posts

: 4311


Join date

: 2012-09-28




---
Permissions in this forum:
You
cannot
reply to topics in this forum