April 2018
| Mon | Tue | Wed | Thu | Fri | Sat | Sun |
| --- | --- | --- | --- | --- | --- | --- |
| | | | | | | 1 |
| 2 | 3 | 4 | 5 | 6 | 7 | 8 |
| 9 | 10 | 11 | 12 | 13 | 14 | 15 |
| 16 | 17 | 18 | 19 | 20 | 21 | 22 |
| 23 | 24 | 25 | 26 | 27 | 28 | 29 |
| 30 | | | | | | |
Calendar

Page 3 of 3 •

1, 2, 3

Tenez wrote:You are not bringing anything new on this forum.
Ban me then!
LOL.
Tenez wrote:

Larry Ellison wrote:

.

There are plenty of shots like that played in a season. Some much more impressive. Just have to look on the side though as most players are RHed.

Can you see this is a sheer power shot with horrible technique.

As I said you can find tons on the net.
Go on then, find me these tons...
You've found 1 so far, and that is from Federer (the player who generates the second most rpms behind Nadal).
I remember roddick was quite good at these, here's one
https://www.youtube.com/watch?v=v7gQ-vySQMk
I don't know enough about the sport technically to weigh on this this btw



Posts

: 4302


Join date

: 2012-09-28






Posts

: 4302


Join date

: 2012-09-28



That is a great shot by Roddick- although the spin is not as much as what Nadal put: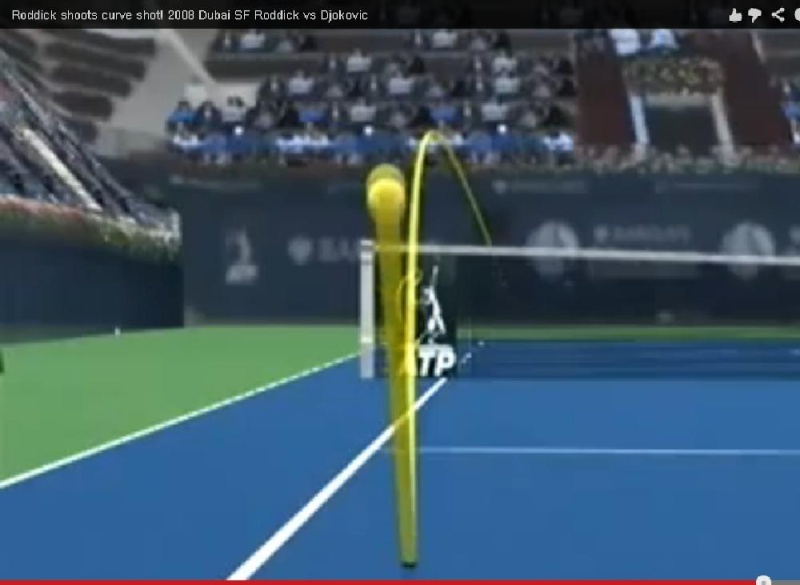 Sure. But she is still massive. Bizarrely bulky. Natural or not? I don't think we can quite sort it out just by watching her.
This I have to agree with,which is why I think Serena is such a tricky case
A very very good argument can be on both sides of the debate which is why I said its still wide open
What makes her case so hard is that I dont think she dopes consistently ( if she does)
Isn't it what Nadal just did? That's the beauty of a game relying on power and stamina as opposed to fine timing and perfect mouvement.

No with Nadal everything comes and goes because he relies purely on the drugs,without it he isnt even half the player he is on it.Sure he can come back and do these things having cycled up out of competition,but in comparison to Serena my point was that her strength never leaves her.I think the same would apply to Federer,if he didnt play for a couple of years,because his technique is so sound,he would still come back picking up more or less where he left off
Thats years of hard work installed and ingrained in you,when you prefect technique like that it never really leaves you
Nadal isnt a technician,everything he does is bad technique and none of it comes from anything natural
I think what they take is simply untraceable noawadays. This is why they now all claim they want more testing. It's the perfect solution....so far.
Its not just that,the side effects are almost non existent which makes it so much harder to speculate.Plus the ability to mask anything can be done un as little as 6 hours
A few years ago,it was pretty obvious Murray was on Nandrolone while being coached by Gilbert,now its impossible to say what he is taking,in fact physically he looks completely clean,but looking at his improvement clearly says,thats aided by PED's.Same goes for Ferrer,Erranni and loads of others
I think tennis players are moving away from steroid use..its quite clear theres been a new drug on the circuit in the last 3 or so years that offers what both steroids and EPO can combined



Posts

: 3377


Join date

: 2012-06-19



luvsports! wrote:haha put me on the spot why don't ya VJ

cheers for asking

Basically I chose a dissertation topic that has now amalgamated into "preventative measures to combat doping in cycling" although I haven't gone down the physiological route too much as thats a whole different kettle of fish.

My knowledge of cycling then (october) compared to now (other sports to in regards to drugs) well its polar opposites. (CHEESE ALERT) I was blind but now I see

I have this feverish passion churning away inside of me to uncover more but as you say we know nothing.

I think that crazy aussie guy on youtube (videos i posted) summed it up well.

"Everyone knows whats going on, the athletes do, the coaches do, the authorities and drug testers do BUT NOT THE SPECTATORS ." This is so true. We are also to blame. We are disappointed if WR's aren't broken, if nobody attacks on a mountain climb etc. The public is oblivious to it and yet craves it with an insatiable desire which does not help at all.

The omerta, imo, is everywhere it is just now under a more sophisticated guise, a war that can never be won, but we are going about it the wrong way.

You are the expert here VJ haha. Yes I suspect djoko of doping and 2bh his rant about LA made me think he was even more so and it infuriated me.

For me at times I just thought djoko didn't look natural, like his eyes were leaping out of his head.

I thought HGH (with insulin) may be used (very common in cycling) to aid the recovery time. I doubt it could be these but I think you could consider dianobol, andriol or even anavar?

Maybe stanozol as that builds strength and muscle mass with minimal bulk development, but I am less sure on that one, probs wrong.

Why could djoko not be on epo VJ? Didn't he have a blood clot or something in his back?

I do not buy this diet thing at all. Marginal gains not mammoth like gains.

Again the problem is that there is not much published work/findings on athletes to see their capabilities and then with drug enhancement.

There is just so much we don't know and I want to find out.

I have been offered some work experience at the independent in the summer

and I want to do some digging!
That Aussie guy couldnt be more correct...everyone know whats going on,everyone in the profession knows who is doing what mostly cause they are doing it themselves.Its the sad reality of sport is that every athletes knows they dont stand a chance if they dont dope
I agree that its like a crime..a sort of war that can never be won...when you say we are going about it the wrong way,what changes do you think should be made?
Its quite interesting to see you bring up whats used in recovery cause this is something we often over look,if I am not mistaken many players are often tested after a match,what could be used in recovery could be whats used as a sort of "top up" masked by what ever is used to recover
Over on THASP theres a lot about HGH and the recent scandals,its definitely very plausible in certain cases especially if an athlete is faking joint injuries
The biggest problem for me with Methandrostenolone would be the estrogenic effects so drugs like Clomid or Novaldex would have to be used to combat that,youd also have to take into consideration the mass bulk of water retention which could hinder movement for sports which a lot of cardio is being done
Its hard to say exactly how drugs tests are done especially when looking at how Nandrolone is tested,but I think the less drugs you need to take the safer the bet,i.e testing positive for Clomid would probably be a dead give away and raise all kinds of suspicions,not what you want when there wasnt anything else showing
I would completely rule Androil out for pro athletes cause once it reaches your blood stream,it doesnt have much anabolic effect,for it to work you need to take it almost every 2 hours!
I wouldnt think Anavar is something a male athlete would consider but its something I have definitely over looked when thinking about the female players
But I think your point about insulin opens up quite a wide range of plausible possibilities
There are so many variations of EPO and its definitely far more plausible that
Djokovic
would be using one of its strains rather then some kind if steroid.As I said to Tenez,I think tennis is moving away from steroid use cause very few players these days are showing signs of using it
I think there is definitely some new drug on the circuit which offers whats both steroids and EPO can combined with no visible side effects
Question is how long it will remain a mystery for
I agree with you,diet is marginal but mandatory when using PED's.Its often used as to mask drug use and certainly isnt enough to even meet the demands of being pro today
You should keep us informed about what you learn and discover during your summer work experience,would be keen to know



Posts

: 3377


Join date

: 2012-06-19



Page 3 of 3 •

1, 2, 3


Similar topics
---
Permissions in this forum:
You
cannot
reply to topics in this forum